Courses
Here is a list of offered courses describing their content. So that you are eligible to obtain the Massage Certificate, you need to go through the entire training course, consisting of five certification courses on rising expertise. The day-to-day workshops are freely accessible, but sometimes they need some prior experience. You can find individual sessions, treatments and consultations in the Services folder.
Will you get a tantric masseur, masseuse?
The boxes below provide an overview of what is being learned on the courses. You can send each course using the Request form or a Reservation form.
Courses are leaded in Czech language, interpreting is paid for.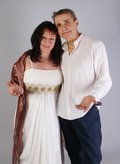 The Tantric Massage School consists of 5 connecting parts:
The body loves the touch
Shiva and lingam massage - the art of massage for men
Shakti and Yoni Massage - Specifics and Principles of Women's Massage
The Magic of the 4th Dimension
The body is the temple of the soul
You can find the date by click on Read more or in the Calendar.
We look forward to your submissions.
Come with us to learn the art of touch and enjoy his reception and giving. We invite both beginners and intermediate and also couples. The course is also designed for masseuses and masseurs.
We will teach you the ritual of tantric massage and improve communication, especially with the help of touch, shared experiences.
Without finishing the 1st part of this course you cannot continue the further training.
This weekend seminar will be devoted to the specifics of a man's massage, but women will also come to see them in discovering zones on the body of the man (man) and when receiving a massage. The main evening program will be dedicated to men.
You will learn to give and receive touch not only in the role of masseurs, but also in order to use the acquired knowledge and experience in everyday life, in a relationship. We will also focus on your perception, experience and sharing.
Come and learn how to tune in and please a woman. This weekend seminar will focus on the specifics of women's massage, men have a unique opportunity to understand how different women's world is and how they touch them.
We concentrate on realizing our basic energy, its cultivation and liberation from unnatural constraints, the connection of energy with pleasure and everyday life.
The 4th part of the school of tantric massage offers:
Tantric Crown massage of the 4th Dimension
Tantric massage as a profession - learn about rules, borders and much more.
You embark on advanced techniques of intimate massage for men and women.
The final part of the Tantra Massage School is devoted to treating intimacy, widespread orgasm, and Kashmiri or Tao Massage. Participants who passed a practical and theoretical exam and have completed supervision will be solemnly certified.
A half-day workshop for women in which you learn a beautiful meditation massage that will bring you back to your full and positive view of your body.
Do you already have the basics of classical massage? That's great! In this half-day course we will teach you how to adapt the flow of tantric massage.
Free workshop of tantra massage school where we will explore the experience of full body orgasm and we will use some techniques of Kashmir massage.